POSTED ON Nov 19, 2021
Swan River Venues to Impress Your Guests
While there are plenty of great venues in Perth, it's hard to match the million dollar views you'll find on the shores of the Swan River. Dazzling waterfront and views of Perth city skyline make these 11 venues your top choice when choosing a riverside events venue in Perth.
Feature image: Nedlands Yacht Club
Nedlands Yacht Club
Events on the Foreshore
Few other venues can match the gorgeous appeal of Nedlands Yacht Club. It is one of the rare venues that stands out with its expansive outdoor space complete with manicured lawns and views of the city skyline and the boat marina. The space is big enough to host anything from the smallest and intimate parties up to large functions for 1500 people.
The world is your oyster when planning an event at Nedlands Yacht Club since the award-winning venue has everything you need for flawless execution of any event be it a wedding, a conference or a product launch.
More information and amazing images of Nedlands Yacht Club here: Absolute waterfront venue
The Raft
Floating Venue
You can't get more "on the river" than this. Permanently moored on the Swan River, The Raft is an iconic Perth open-air event space taking in the stunning vistas of Perth City, Elizabeth Quay and Kings Park.
The 250 patron capacity venue can accommodate 250 patrons standing and 180 seated in a long table set up. Popular for weddings, corporate events and ticketed events, the floating venue is accessed by it's private tender vessel that takes your guests from Barrack Street Jetty directly to The Raft in style.
Request a package from: The Raft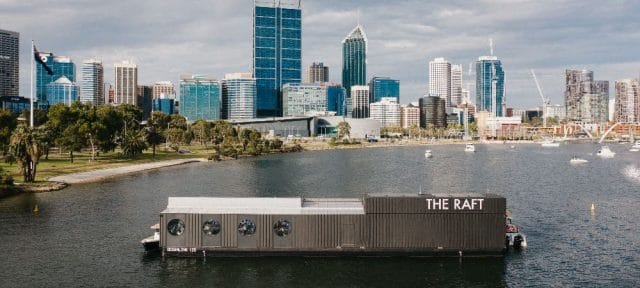 Acqua Viva on Swan
Absolute River Views
Conveniently located in Nedlands with ample free parking is Acqua Viva on Swan. The Main Dining Room is surrounded by floor to ceiling windows, bringing in floods of natural light and the beautiful vista.
A space ideal for weddings and corporate events, the leather chairs and neutral decor allow you to theme and decorate if you wish. The main room can accommodate up to 150 guests seated with a dance floor or 180 guests cocktail style. Guests can even arrive by boat and moor at the private jetty.
Want to know more? Go to: Acqua Viva on Swan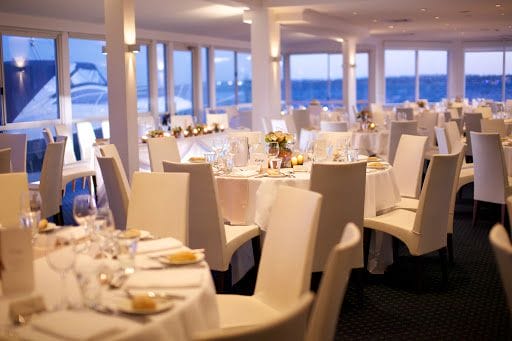 Swan River Rowing Club in Mount Pleasant
Waterfront Functions on the Swan River
Floor-to-ceiling windows that open to a spacious balcony are an absolute must for the full enjoyment of any waterfront event. Swan River Rowing Club is a great example. While the space will be suitable for smaller events between 80-130 people, it still packs a punch thanks to its spectacular location.
Located right next to Canning Bridge in Mount Pleasant, the venue enjoys a convenient location with 5-star views.
Check out more info about: Hall Hire at Swan River Rowing Club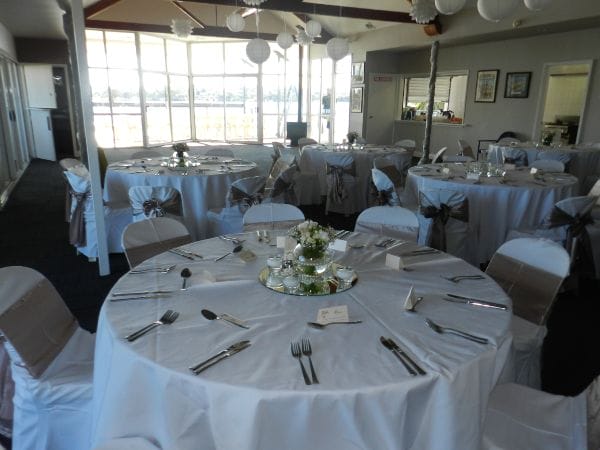 Mosman Park Golf Club
Elevated Views from Fremantle to Perth
As if the spectacular waterfront views of the Swan River weren't enough, Mosman Park Golf Club takes it a step further offering elevated 180-degree views from Fremantle to Perth from its gorgeous Chidley Point location above the river.
The Chidley Room at Mosman Park Golf Club will easily host from 30 to 150 guests celebrating anything from a wedding and a birthday to business seminars and smart corporate events.
Learn more about this: Mosman Park Riverside Venue
Bells Functions at Barrack Street Jetty
Swan River Panorama
Fantastically versatile, Bells Functions is among the best riverside event venues in Perth and it's easy to see why. The central and highly convenient location on Barrack Street Jetty sets the bar high and the space itself follows suit. Floor to ceiling glass windows open up to a Swan River panormama while also filling the space with light and airiness.
Both the indoor space as well as the terrace boasts a gorgeous design finish exuding luxury and sophistication with a hint of nautical – perfect for the riverside location. Bells Functions can comfortably host anywhere from 20 up to 170 people.
More about: Bells Functions Venue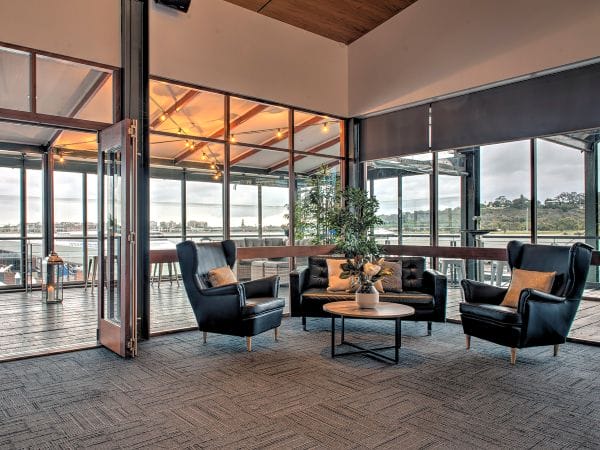 The Bell Tower
Iconic Venue
As well as being an iconic Perth landmark, The Bell Tower is popular for corporate functions, small weddings, cocktail parties, birthdays and events. It's also one of the few venues which allow you to bring in your own food, beverages and caterers.
With a maximum capacity of 40 seated and 90 standing, the Bell Tower offers a spectacular setting with majestic Swan River views from the Level 6 Observation Deck. The venue also boasts manicured lawns, scenic gardens and picturesque fountains.
Find out more information from The Bell Tower
Photo credit: Alana Prosper Photography
Beaumonde on the Point in East Perth
Luxurious and Sophisticated East Perth Riverside Venue
The Ballroom at Beaumonde on the Point is a stunning events venue that really ticks all the boxes. Its grand indoor space is a perfect fit for even the most spectacular events while also ideally suited for weddings and private celebrations.
Highly stylish with a modern finish as well as blue and golden accents to fit the riverside surroundings, the Ballroom also offers the most modern audiovisual solutions that will truly elevate any event. The venue has heaps of natural daylight during the day thanks to floor-to-ceiling windows and gorgeous lighting options for luxurious evening affairs.
Find out more about this: East Perth function venue with river views
Royal Perth Yacht Club in Crawley
Swan River Foreshore Events
Remarkable attention to detail and a commitment to excellence is at the very core of the Royal Perth Yacht Club located in Crawley, which offers various event spaces for private and business occasions. The smart indoor function rooms combined with the impressive lawn area create a 5-star atmosphere on the tranquil shores of the Swan River and Perth city skyline in the background.
Each of the rooms individually can accommodate up to 180 guests yet when combined, the perfect cocktail event for up to 400 guests can be put together.
Visit here for more details about the Yacht Club private functions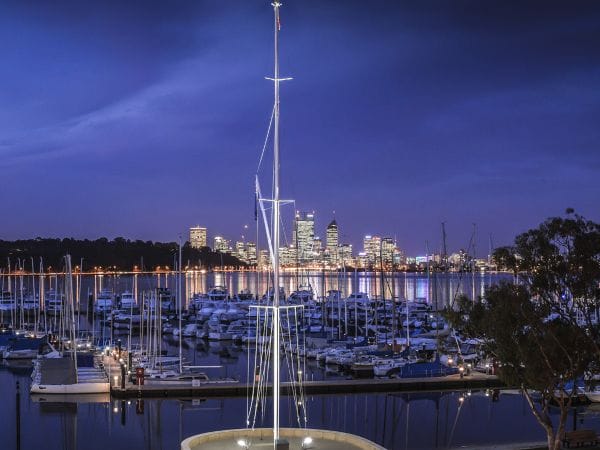 The Boatshed in South Perth
Private Dining by the Swan River
For times when you need to put together an intimate private event still accompanied by the magnitude of Perth city skyline and the dazzling waterfront, The Boatshed is the ideal venue. Perfect for parties up to 16 people, this South Perth gem wants to impress.
Elegant and highly sophisticated, The Boatshed has views worth a million and the service is equally top-notch. Impress your business associates or your closest family and friends with an unmatched experience complete with awe-inspiring views.
More about this Riverside Private Dining Venue
The Riverside Room at the Raffles Hotel in Applecross
Iconic Swan River Venue
Highly modern and design-centric, the Riverside Room at the iconic Raffles Hotel satisfies both the need for an events venue with unmatched riverside views as well as modern elegance that even the most design-savvy will be happy with.
Bright and spacious, the Riverside Room not only offers panoramic views but also a fantastic aesthetic with brushed gold accents as well as a riverside alfresco area where the guests can mingle and enjoy the atmosphere. Ideally suited for parties up to 220 guests.
See more info here: Raffles Hotel Riverside Venue in Applecross