POSTED ON Jan 30, 2023
Best Brisbane Private Dining Rooms
If you are looking to host an intimate special dinner and want to wow your guests; Brisbane has a decent selection of private dining rooms to choose from. From unique and tastefully different to old world charm and sophistication, check out our top picks below.
*Please note that some of the room capacities may not be accurate due to COVID restrictions.
For more great venues, got to our venue search
1. Cellar at Cloudland
Intimate Celebrations in Fortitude Valley
Cloudland in Fortitude Valley is full of surprises and this is one of them. With delicate silk furnishings, rustic leather clad seating and soft mood lighting, The Cellar is warm and inviting private space.
Ideal for an intimate wedding reception, private celebration or sit down business event, the room can seat up to 40 guests. The 'sky of diamonds' ceiling creates a sophisticated atmosphere full of old-world charm.
Check out more images and details on The Cellar at Cloudland
2. Ovolo The Valley
Unique Private Dining & Meeting Rooms The Valley
Self-described as a whimsical oasis; Ovolo The Valley have outside the box private dining and meeting rooms. With ultra-modern, funky and fully equipped spaces, you can hold anything from creative meetings to executive luncheons and intimate dinner events.
Choose between their boardroom B.I.G which holds up to 10 people or The Games Room for up to 20 people. Quality and exotic menus are served by in-house restaurant ZA ZA TA centring in on the flavours of Middle Eastern and Mediterranean cuisine.
See more on the Spaces at Ovolo The Valley
3. The Parlour at The Inchcolm by Ovolo
Elopement Dinners and Intimate Celebrations
The Parlour was the grand sitting room in this once private home – and now Brisbane's favourite boutique hotel. Inspired by Art Deco Style, your guests will be impressed with the herringbone oak floors, floor to ceiling windows and Granite fireplace.
It's the perfect private dining room to thank colleagues, impress associates or celebrate a special occasion with those that mean the most to you. The room can seat a maximum of 32 guests in a long table setting.
The Inchcolm also offers the sophisticated Foxtrot Room – a stylish boardroom/private dining room suited to smaller luncheons and dinners for up to 12 people.
Find out more about the spaces at The Inchcolm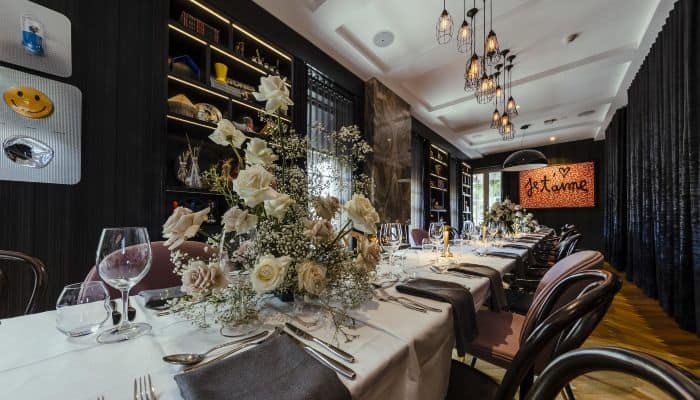 4. Paw Paw Cafe
Chic Private Dining Room in East Brisbane
This Bali-chic function room at Paw Paw cafe in Woollongabba is a beautifully styled visual delight. It's a gem of a spot especially if you are into fresh Southeast Asian cuisine. Their catering options include Thai buffets, banquets and platters. They also specialise in gluten free, vegetarian and vegan options. Let them know what you want, and they will tailor a food and drink package to suit your occasion.
There is no room hire fee for this gorgeous private space; simply a minimum spend on food and drink. It perfectly suits seated events of up to 50 guests
Enquire about Events at Paw Paw Cafe
5. Melrose Restaurant
Shared Banquet Dinners
This contemporary Asian restaurant in Bulimba delivers the perfect semi-private function space for a long table shared banquet on high dining tables. Surrounded by neutral tones and beachy textures, the room hosts 20-45 guests.
The menu packages are mouth watering and change regularly. Custom menus are also available and opportunities to take it to the next level with a personal chef, beverage packages and arrival cocktails.
Request the latest banquet packages for Melrose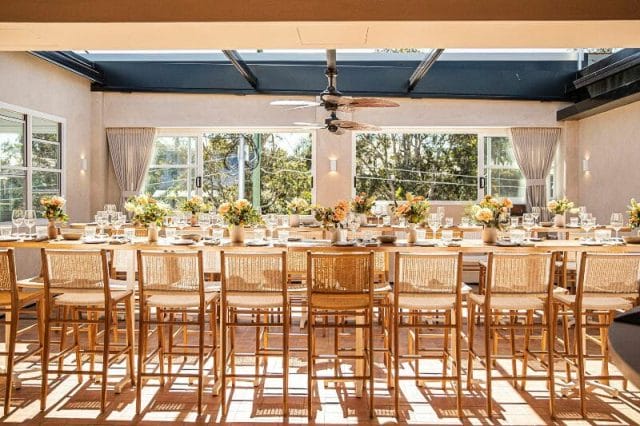 6. The Boardroom at Hillstone St Lucia
Private Dining with Outdoor Space
Hillstone St Lucia is a well sought after venue with its stunning location and backdrop. The function rooms are all classically styled with access to their own private terraces.
The boardroom is elegantly designed for long table private dinners, perfect for a small retreat or family celebration. With plenty of natural light and a private, undercover outdoor terrace, the space is inviting. The room includes a TV screen for presentations and slide shows, wheelchair access and private bathrooms.
Learn more about a private dining experience at Hillstone St Lucia
7. VIP Room at Rydges Fortitude Valley
Classic Lounge Style
For a unique private-dining experience, check out the VIP Room at Rydges Fortitude Valley. The sophisticated lounge with a gentleman's club feel will intrigue your guests with the antiques, old books and sporting legends that line the room.
Furnished with chesterfield armchairs and pull back curtains, the VIP room benefits from tailored packages and flexible room configurations. The space can accommodate one long dining table for up to 15 guests or a banquet style dinner for up to 30 guests.
More about private dining at Rydges Fortitude Valley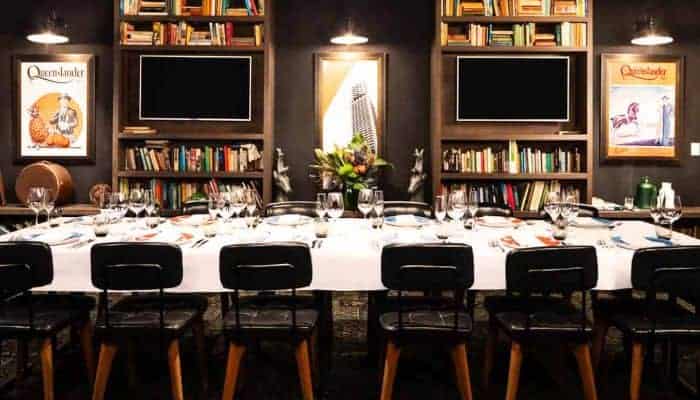 8. The Alliance Hotel in Spring Hill
Two Private Dining Rooms for Meetings and Special Dinners
Located in Spring Hill, the charming Alliance Hotel offers two private function venues ideal for private dinner events.
The smallest of the two – The Headquarters has a sophisticated feel with natural light and AV capabilities. The room seats 16 guests and is a beautiful private dining room for offsite meetings, masterclasses and special dinners.
Inspired by the stylish apres-ski lounges of the Alps, The Chalet Bar can seat up to 25 guests for a private dinner. Designed with exposed brick and red walls, the space is cosy and unique. Including a private bar and in house sound system, it's popular for family celebrations.
More about the two private dining rooms at The Alliance Hotel
For more great venues in and around the Brisbane area, head over to our helpful search function on the venues Brisbane QLD page. You'll find it really easy to find a close matching venue for your event needs, whatever the occasion.