POSTED ON Jan 13, 2022
A BYO or self-catering venue gives you a bit of license to make your event your own. Brisbane offers a range of blank canvas, warehouse and self-catering venues that offer choices around catering, drinks and styling. Here's our pick:
Featured Image – The Joinery, West End
1. THE JOINERY IN WEST END, BRISBANE
BYO Alcohol: Yes
Self Catering: No
Stylish and industrial event space
Where modern and sleek meets raw and industrial. With it's striking external facade, The Joinery is an architectural delight boasting lofty high ceilings, pendulum lights, contemporary exposed brick and polished concrete floors.
Whether you are looking to hold the wedding of all weddings, a private event or a stylish business event , the Joinery will work with you to make it happen. Exclusive caters Chez Nous custom design your event menu and BYO alcohol is served by their RSA certified team. Facilities include wheelchair accessibility, speaker system and microphone.
Find out more about The Joinery here: Stylish Brisbane Events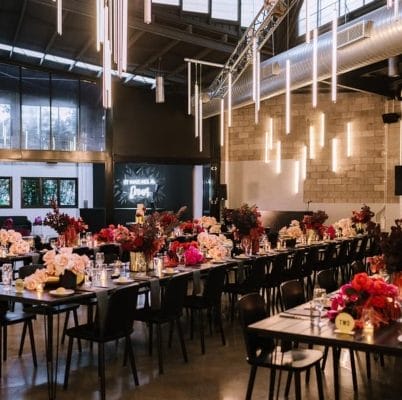 2. THE GRAND ON STANLEY BAR IN WOOLLOONGABBA
BYO Alcohol: No
Self Catering: Yes
Self-Catering food at this licensed bar venue
Rich in character, The Grand on Stanley is grand in ideas, yet small by nature. The lovingly preserved space with stained-glass windows, exposed brick walls and lavish light fixtures is an elegant, uncomplicated and comfortable venue.
As a fully licensed bar venue, BYO alcohol is not permitted. However, this is a perfect venue to bring in your own catering and let your guests take care of their own drinks at the bar or you can set up a tab. Holding up to 60 seated guests or 100 standing event, you can decorate the venue and also enjoy access to the outdoor courtyard. The Grand on Stanley is in demand for an array of events including birthdays, small weddings, engagements, 21sts, corporate events and networking.
More images and information on The Grand on Stanley here: Woolloongabba Venue
3. BENGA BOX BYO PARTY VENUE IN STAFFORD
BYO Alcohol: Yes
Self Catering: Yes
Affordable Venue Hire for Parties
Ready to party? Benga Box is your place. Located in Stafford in a secure gated warehouse, this unique industrial venue allows you to design your party the way you want it. With an appealing vibe, this space has been created with flexibility in mind. Thinking of food truck catering and mobile bars? Easy peasy.
Benga Box is fitted out with a PA system, lighting & projector, DJ Box, lectern, dry bar tables and stools, all of which are included in the affordable venue hire. Available on Friday and Saturday nights, this is a hit for birthday parties and celebrations.
More information on Benga Box can be seen here: Brisbane BYO Party Venue
4. BUNDALEER RAINFOREST GARDENS
BYO Alcohol: Yes
Self Catering: No
Wedding venue with BYO drinks
Just 20 minutes outside of Brisbane's CBD, you will feel a million miles away from the hustle and bustle at Bundaleer. This treasured family-owned four-acre property is nestled in the rolling hills of Brookfield with country views, expansive space, and rainforest gardens.
This idyllic location is a stunning background for your special day. Your ceremony, photographs, and reception can all be held within the same beautiful vicinity. Two reception locations are available to choose from; the rustic Treetops Room with a capacity of 120 guests or The Marquee for weddings up to 200 guests.
Bundaleer is currently a BYO licensed venue for both alcoholic and non-alcoholic drinks. A corkage fee per head is charged to cover the full bar set up.
More About: Events at Bundaleer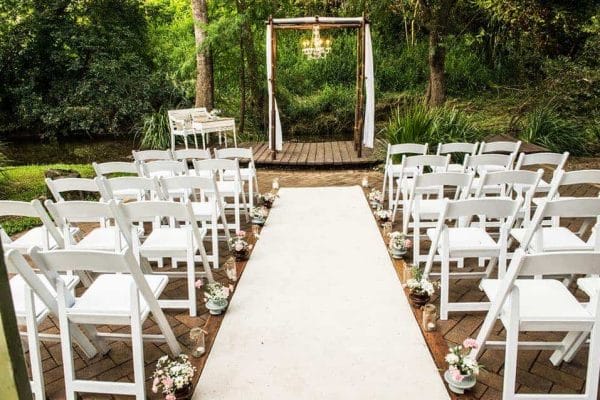 5. CHERBON WATERS
BYO Alcohol: Yes
Self Catering: No
Marquee BYO Venue
Located on Brisbane's southside, approx 25 minutes from the CBD, Cherbon Waters is a secluded venue nestled on the banks of the Leslie Harrison Reservoir in idyllic Burbank. The venue has been designed with weddings in mind and offers a lakeside, covered gazebo, and a permanent marquee. Over the years, they have also hosted many Year 12 formal functions and other significant celebrations including, birthday parties, wedding anniversaries and other intimate gatherings.
Cherbon Waters comfortably accommodates up to 160 guests with a "round table" layout, and up to 200 guests with a "rectangular table" floor plan. The Marquee can also be extended to cater for larger numbers. This beautiful waterside venue ticks a lot of boxes.
All catering is provided by Cherbon Waters, however, it is a BYO venue for drinks. Just arrange for the bottle shop to drop off your order, chilled, on the morning of your event along with some bags of ice and it's all set to go. Anything that is unused, you take home.
Find out more about Weddings at Cherbon Waters
6. BIB N BRACE EVENTS SPACE
Art Warehouse Venue in Teneriffe
BYO Alcohol: Yes
Self Catering: Yes
This artsy warehouse venue is a multi faceted space for creatives that also works beautifully as an ambient and versatile events space.
The workshop area is perfect for small gatherings, presentations and workshops. The main open area has plenty of wall space for presentations or exhibition use. The two areas can be combined for larger events such as networking, cocktail parties, dinner events, fashion parades, fundraisers, pop up stalls and heaps more.
There is a small kitchen area and use of the onsite up-cycled furniture is included with the venue hire. The capacity is 125 guests
Find out more about
Bib 'N' Brace
7. BROCKHURST FARM
DIY Country Weddings
BYO Alcohol: Yes
Self Catering: Yes
One hour north west of Brisbane, set on 22 acres of rolling hills and perched high on a mountain with spectacular views is Brockhurst Farm. This ultimate DIY wedding venue offers couples the laid back, country wedding they dreamed of.
The wedding package includes venue hire for 3 days and 2 nights with 3 cabins for accommodation (total sleeps up to 17). The purpose built barn is for you to use for your reception with a maximum capacity of 80 guests.
You decorate and self-cater food and alcohol. There is so many possibilities here; think food trucks, lawn games, grazing tables, horse and cart. There is even a fire pit you can use!
Request the full package details from
Brockhurst Farm
Would you like to check out some more great Brisbane Venues? Try our easy to use venue finder to search for the perfect location for your next event.