POSTED ON Dec 17, 2019
8 Brilliant Swan Valley Venues in 2020
It is impossible not to be impressed by the awe-inspiring natural beauty of the Swan Valley. With more than 40 vineyards located here, the scenery is painted with gorgeous landscapes and filled with boutique restaurants, and renowned breweries. Favoured by Perth locals, the close proximity to the city makes the semi-rural Swan Valley ideal for weekend getaways, weddings, and events of all kinds.
Feature Image: Mandoon Estate
Sandalford Winery Functions Venue
Highly desirable Swan Valley venue
Sandalford Winery is a standout event venue in the Swan Valley catering for a wide range of events, including weddings, seminars, conferences, banquets, product launches, and private and corporate celebrations.
Set amidst lush green landscape, the contemporary-looking winery is truly perfect for any event. The jaw dropping Oak Room gives off a truly smart and timeless vibe with plenty of wood – the walls have stained oak panels as well as oak barrels, complementing the winery.
Aside from making superb WA wines for over 175 years, the venue is well equipped with professional facilities, making Sandalford a highly desirable event venue in the region.
Find out more about this highly desirable Swan Valley function venue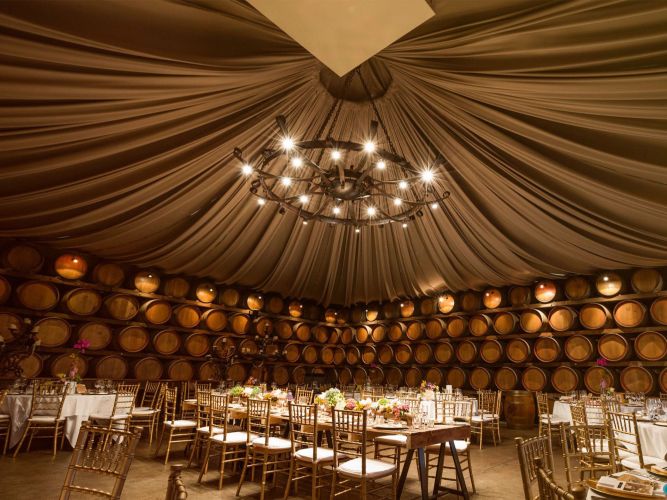 Mandoon Estate Indoor and Outdoor Event Spaces
Elegance and sophistication with uninterrupted river views
One of the most recent and exciting additions to the list of Swan Valley event venues and also the largest, Mandoon Estate offers an ultra-modern functions centre suitable for a variety of events. Comfortable for up to 500 guests, the Surveyors Room boasts floor-to-ceiling windows, perfect for unlimited daylight and unobstructed views of the surrounding vines. And there's more…the pre-function foyer and outdoor deck are a winner for pre-dinner drinks. Elegance and sophistication are the defining elements of the Surveyor Rooms at Mandoon Estate.
The Llawn is an outdoor event space with a more relaxed vibe, perfect for an magical evening under the stars that your guests will remember for a long time.
WA's most awarded boutique winery with an onsite craft brewey and modern accommodation to boot, Mandoon Estate really does have it all.
More about Mandoon Estate's function venues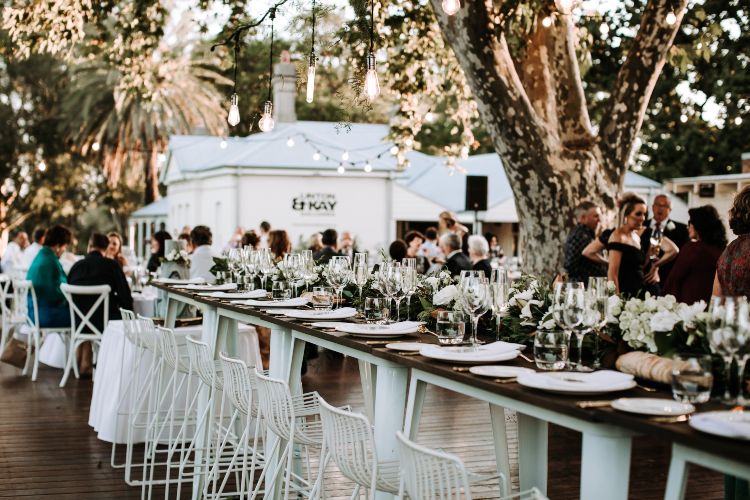 Caversham House Heritage Venue
Classic French meets contemporary
Let's raise a glass in celebration – this building dates back to the second half of the 19th century and it exudes timeless elegance and class. Because of its historic significance, it's one of the most sought-after venues in Swan Valley and it's easy to see why.
Infused with French style as well as contemporary design elements, this venue with stunning white walls and impressive chandeliers is a perfect fit for anything from weddings to corporate events and private celebrations. The main house can comfortably fit up to 280 guests for cocktails and 180 for dinner allowing a comfortable celebration in a beautiful space. Whether an intimate event or a business affair, here you will find 5-star service that will leave nobody unimpressed.
Learn more about: Caversham House Swan Valley weddings
Mulberry Estate
Swan Valley venue with amazing views
Spacious and filled with light, Mulberry Estate is a dream-come-true venue for anyone looking to get married in the Swan Valley. While popular for weddings, this venue will also be a perfect fit for private functions and other events.
Floor-to-ceiling windows throughout make this venue absolutely fantastic for soaking in the surroundings and celebrating in style. The estate is filled with lush greenery and you can enjoy sweeping views of the Swan River and the manicured gardens.
More images and information can be found here: Swan Valley venue
Barrett Lane BYO Venue
Picturesque location for intimate events
Fully embracing its vineyard surroundings, Barrett Lane is an inviting and popular Swan Valley venue. Perfect for a wide array of events – anything from weddings and private functions to networking and team-building events. Catering up to 130 people for up, their catering is top-notch and exciting. It is also a BYO venue which is a big draw card for some event hosts.
Offering complete privacy, Barrett Lane has a fully equipped and air-conditioned function room and a lawn area, surrounded by beautifully manicured gardens. You can soak in the gorgeous views from either the outdoor space or the vast balcony that opens up to a spectacular panorama.
See more of what Barrett Lane has to offer here: BYO Wedding venue
Brookleigh Estate Wedding Venue
Your own kingdom for your wedding day
Few other venues offer diversity as great as Brookleigh Estate. The expansive 80-acre property has a beautiful lake, an indoor arena, hidden garden, chateau portico as well as stables available for wedding ceremonies and receptions. The stunning equestrian estate draws inspiration in European architecture and a certain French chateau ambiance can be felt throughout.
The venue can host up to 300 guests and sleep 36, and with the picture-perfect surroundings, you will truly feel like you have your own kingdom.
Learn more about this large Swan Valley wedding venue
Rustique Weddings, Functions & Events
Flexible event space under the vines
Just like the name suggests, Rustique Swan Valley is a down-to-earth rustic venue at the heart of the Swan Valley. If you would like a venue that is a little more laid back, this beautiful venue will warm the hearts of your guests with its gardens and stunning vistas, perfect for photo backdrops.
A quaint bridge over a pond and surrounded by trees, this spot sets the perfect mood for a celebration in the countryside.
Want to know more about this venue? Check out: Rustique Swan Valley Venue
Carilley Estate Vineyard Venue
Rustic weddings
In the heart of the Swan Valley is Carilley Estate – a rustic vineyard venue. Featuring lush vineyards, manicured lawns, flourishing gardens and ancient gums, it's a "must see" for your next function or event.
For couples to be, this picture-perfect setting is romantic through and through. Tie the knot in a serene ceremony under a majestic gum tree near the brook – dreamy.
More about this rustic wedding venue