POSTED ON Sep 7, 2023
Perth's Best Ocean and Riverside Venues
Are you imagining a beachside venue for your next event? Or, are you craving the million dollar views that the Swan River blesses us with?
Check out the list of our favourite Perth Top Waterfront Venues below. Discover more with using our search of Perth venues .
Featured Image: Nedlands Yacht Club
1. Scarboro Function Centre – The Sunset Terrace
Scarborough Oceanside Venue
One of the most popular venues on Venue Maestro. In the newly developed Scarborough beachfront, The Sunset Terrace capitalizes on its enviable position and expansive views.
For any kind of event, this contemporary architectural delight in harmony with its local surroundings and the needs of its guests will accommodate up to 250 guests for almost any type of event. There are 3 function spaces on offer.
Premium catering is available along with the very best selection of beverages by Ultimo Catering.
Check out this popular venue: Scarboro Function Centre
2. Nedlands Yacht Club
Events on the Foreshore
Few other venues can match the gorgeous appeal of Nedlands Yacht Club. It is one of the rare venues that stands out with its expansive outdoor space complete with manicured lawns and views of the city skyline and the boat marina. The space is big enough to host anything from the smallest and intimate parties up to large functions for 1500 people.
The world is your oyster when planning an event at Nedlands Yacht Club since the award-winning venue has everything you need for flawless execution of any event be it a wedding, a conference or a product launch.
More information and amazing images of Nedlands Yacht Club here: Absolute waterfront venue
3. Perth Flying Squadron Yacht Club
Dalkeith Marina
Located in Dalkeith in front of the Marina, Perth Flying Squadron Yacht Club offers both an indoor ballroom and the flexible Lawn area for outdoor events.
The Mele Bill Ballroom includes an open dance floor, a balcony and beautiful panoramic views of the Marina. Accommodating up to 100 guests seated and 300 standing, it's a popular choice for weddings, corporate and private celebrations.
The Lawn area is perfect for events in the warmer months and affords plenty of space and flexibility for whatever theme or style of event you have planned. Host up to 130 guests seated or up to 600 cocktail.
Check out more details and images for functions at Perth Flying Squadron Yacht Club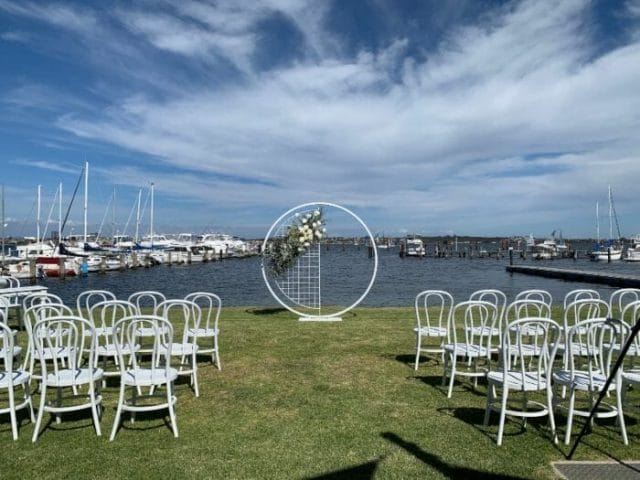 4. Mosman Park Golf Club
Elevated Views from Fremantle to Perth
As if the spectacular waterfront views of the Swan River weren't enough, Mosman Park Golf Club takes it a step further offering elevated 180-degree views from Fremantle to Perth from its gorgeous Chidley Point location above the river.
The Chidley Room at Mosman Park Golf Club will easily host from 30 to 150 guests celebrating anything from a wedding and a birthday to business seminars and smart corporate events.
Learn more about this: Mosman Park Riverside Venue
5. Swan River Rowing Club in Mount Pleasant
Waterfront Functions on the Swan River
Floor-to-ceiling windows that open to a spacious balcony are an absolute must for the full enjoyment of any waterfront event. Swan River Rowing Club is a great example. While the space will be suitable for smaller events between 80-130 people, it still packs a punch thanks to its spectacular location.
Located right next to Canning Bridge in Mount Pleasant, the venue enjoys a convenient location with 5-star views.
Check out more info about: Hall Hire at Swan River Rowing Club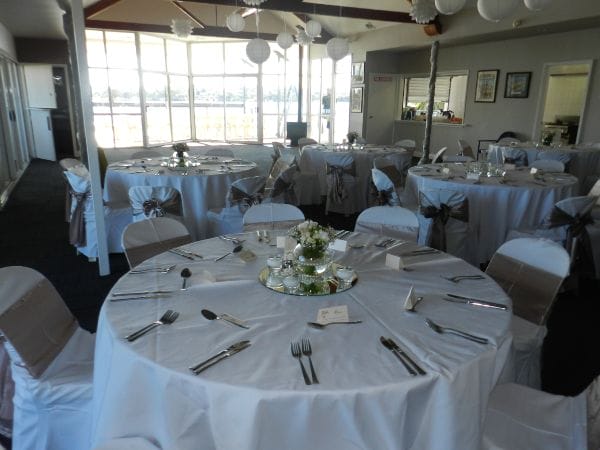 6. Mounts Bay Sailing Club
Self-Catering Riverside Venue – Indoor and Outdoor
Nestled along the serene banks of the Swan River, 15-minutes from Perth CBD, Mounts Bay Sailing Club is a stunning self-catering, waterfront venue.
Hugely popular for weddings and events, The Riverside Lawn hosts anything from intimate riverside private dinners up to 2000 guest cocktail parties. The beautifully appointed club function rooms host between a maximum of 100-300 guests and come with their own bars and a private balcony overlooking the water. Onsite parking is available along with many more venue hire inclusions to make your event run smoothly.
Find out more about Mounts Bay Sailing Club
7. Royal Perth Yacht Club in Crawley
Swan River Foreshore Events
Remarkable attention to detail and a commitment to excellence is at the very core of the Royal Perth Yacht Club located in Crawley, which offers various event spaces for private and business occasions. The smart indoor function rooms combined with the impressive lawn area create a 5-star atmosphere on the tranquil shores of the Swan River and Perth city skyline in the background.
Each of the rooms individually can accommodate up to 180 guests yet when combined, the perfect cocktail event for up to 400 guests can be put together.
Visit here for more details about the Yacht Club private functions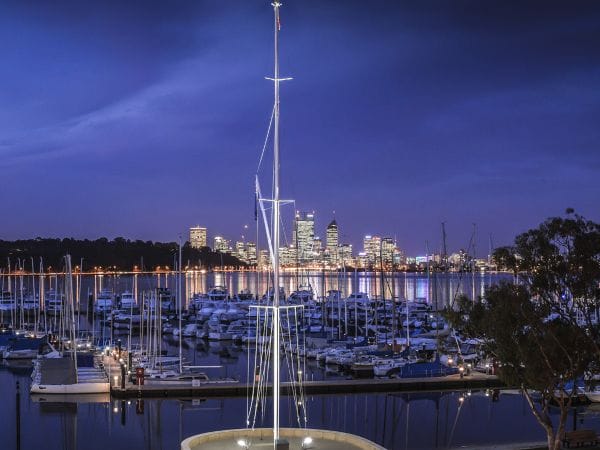 8. The Bell Tower
Iconic Venue
As well as being an iconic Perth landmark, The Bell Tower is popular for corporate functions, small weddings, cocktail parties, birthdays and events. It's also one of the few venues which allow you to bring in your own food, beverages and caterers.
With a maximum capacity of 40 seated and 90 standing, the Bell Tower offers a spectacular setting with majestic Swan River views from the Level 6 Observation Deck. The venue also boasts manicured lawns, scenic gardens and picturesque fountains.
Find out more information from The Bell Tower
Photo credit: Alana Prosper Photography
9. Odyssea City Beach
Indian Ocean Views
Boasting 180-degree views of the Indian Ocean and iconic City Beach, Odyssea exudes a relaxed, beachside ambiance. With 3 separate function spaces available, plus the entire venue for large events; you can host many occasions here, whether it's for business or pleasure from 15 – 300 guests.
With a strong commitment to local producers and seasonality, their functions and group dining menus are fresh, interesting and full of flavour.
10. Bib and Tucker
North Fremantle Beachside Venue
Presenting a watercolour view of the coastline is exactly how Bib & Tucker is admired – keeping the conversation of your guests circulating and inspired.
Bib & Tucker a variety of options including celebrations on the west facing terrace for up to 40 seated or 60 standing. They also specialise in long table feasts on their north facing balcony (up to 30 guests) and for larger events and weddings, you can take over the entire venue with a total seated capacity of 120 or 150 cocktail style.
They take their local produce seriously and the menu includes some mouth watering canapés, set menus, grazing boards and food stations depending on the style of event you want.
Check out Bib & Tucker