POSTED ON Jan 30, 2023
Best Sydney Private Dining Rooms to Impress your Guests
For WOWING your guests, whether it's business or pleasure, check out these top Sydney private dining venues.
*Please note that some of the room capacities may not be accurate due to COVID restrictions.
Featured image: Bel & Brio
For more great venues, got to our Sydney venue search
1. Sails on Lavender Bay, McMahons Point
Waterfront Private Dining Venue
Perched on Sydney Harbours edge, Sails on Lavender serve up quality Modern Australian food with a big side helping of professional service and an extensive wine list. Oh, and did we mention the view?
A popular spot for seafood, what better way to enjoy a special occasion than at a tranquil waterfront location? With a panorama of the harbour and bridge, the private dining room can accommodate up to 20 guests for lunch/dinner, with options varying from a la carte up to a 9 course degustation menu with matching wines all while offering privacy. Its an impressive location for a special occasion.
Enquire about Sails on Lavender Bay
2. Missony
Elegant Feasts in Newtown
One of Sydney's newest additions promises a beautiful atmosphere for contemporary feasts full of flavour. Located in eclectic Newtown, Missony Restaurant specialises in Middle Eastern and Mediterranean flavours and flexible menus for private dinner events.
The chef's expertise extends to special dietary requirements including vegetarian, gluten-free and Halal to name a few. Recipes are created with the freshest ingredients and the most delicate spices, without the use of any preservatives or additives.
Request a private dining package from Missony Restaurant
3. The Roosevelt
Intimate Private Dining at Potts Point
The private dining room at Roosevelt is the epitome of sultriness and sophistication. The 4 walls of this little 'speakeasy dining den' has seen plenty of intimate gatherings, poker games and whiskey tasting sessions over the years.
Choose from the generous selection of upscale New York style set menus or you could even treat your team to a cocktail or whiskey masterclass. The private dining room features a round table with a maximum capacity of 12 guests. Need something larger? The Monore Room can seat up to 32 for dinner.
Check out more images and details on Spaces at The Roosevelt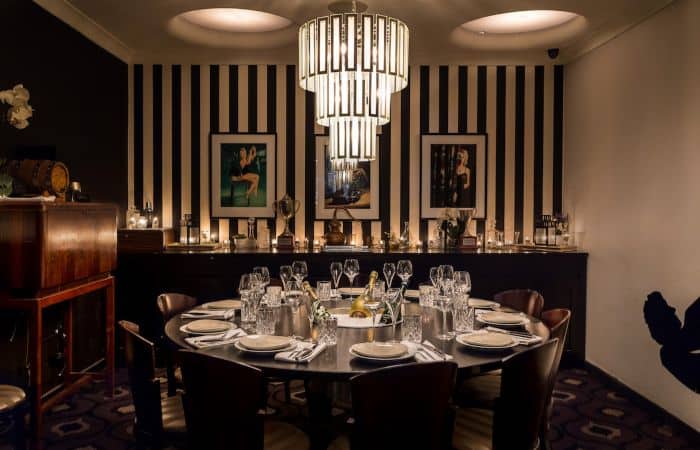 4. Glass Brasserie in Sydney CBD
Great for Foodies
In the heart of Sydney's CBD, located at Hilton Hotel, Glass Brasserie is one of Sydney's finest chef hatted restaurants thanks to the exceptional culinary expertise of Luke Mangan and his team. But it doesn't stop at the food; expect to be impressed by the service and your surrounds.
Glass offer a couple of private dining options; for small gatherings up to 14 guests, check out the semi-private Jimmy Chu's Table. Set on the edge of the restaurant, away from the direct view of surrounding tables, its surrounded by a stunning wine wall and operating glass lifts. Jimmy Chu's table boasts stunning natural light throughout the day and an intimate ambient setting of an evening.
The Wine Bar can also be hired for private dining events and seats up to 34 guests. The space is situated below towers of wine overlooking the beautiful Queen Victoria Building.
Enquire about Glass Brasserie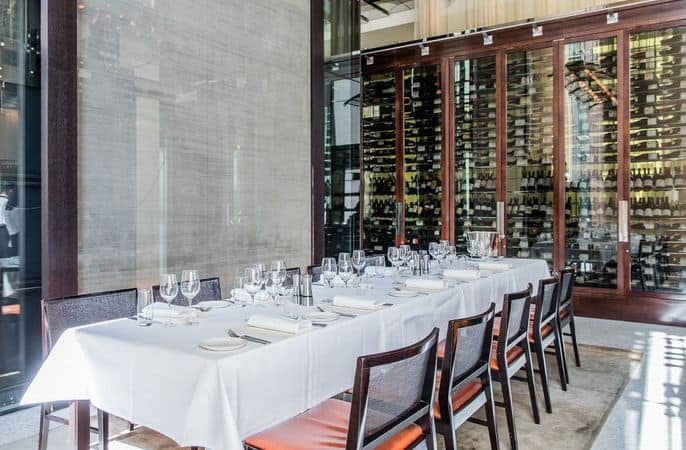 5. Endeavour Tap Rooms in The Rocks
Smokehouse
Located in the heart of The Rocks, Endeavour Tap Rooms is a premium brew & smoke house offering a range of smoked produce from the land and sea and house brewed beers.
Suited for groups, their private dining room has a round table to sit up to 10 guests and the Kings Head Room can accommodate up to 32 seated around long tables. Menu choices include a "Brewers Banquet" with smoked delights featuring chicken wings and a meat board accompanied by beer battered chips and salads.
Check out the private function rooms at Endeavour Tap Rooms.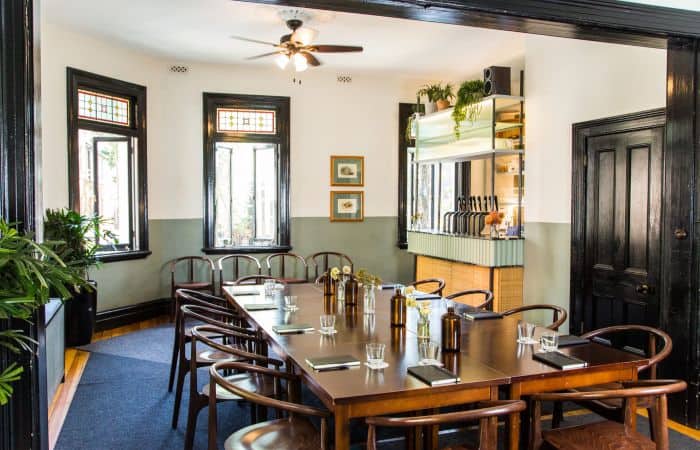 6. Spice Temple, Sydney CBD
Modern Chinese Food
The private dining room at Spice Temple is a discreet and exclusive room suited for intimate dining experiences for up to 12 guests. Tucked away to the right of the restaurant – the interior is luminous white with seductive lighting that can be adjusted to suit day or night.
With a culinary focus on China's lesser known regions – including Yunnan, chilli-loving Jiangxi, Hunan and Sichuan, with their citrus-hued warmth, Guangxi and Xingjiang – Spice Temple's a la carte menu is designed to be shared and enjoyed banquet style.
Find out more about Spice Temple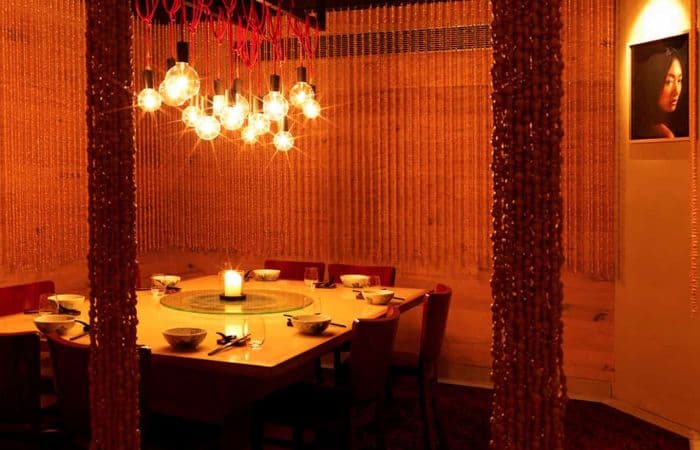 7. Stitch Bar
Diner Style
If you are not into fancy degustation dining but want to gather your besties for some amazing drinks and share plates, check out the spaces at Stitch Bar. One of Sydney's favourite drinking holes, Stitch Bar was inspired by the late night diners found in the back streets of New York and boasts an impressive back bar of American spirits and a food menu to match.
Check out "The Cell" for cosy get togethers of up to 10 people and "The Back Room" for groups of up to 26 seated.
Find out more about spaces at Stitch Bar
8. Chiswick Restaurant, Woollahra
Stylish bistro with seasonal, Modern Australian food
Experience Chiswick's intimate private dining room in its stunning garden setting. Your guests will enjoy views of the manicured green lawns through large floor to ceiling bi-folding doors with direct access to the gardens.
With an obsession of local, fresh and seasonal food, this Matt Moran restaurant delivers on the "paddock to plate" philosophy and doesn't disappoint. A highly sought after venue with a kitchen garden to boot makes intimate dinner events in the private dining room a very special treat. The room can accommodate a maximum of 40 guests for a sit-down lunch or dinner in two long tables side by side. Smaller events can also be catered for.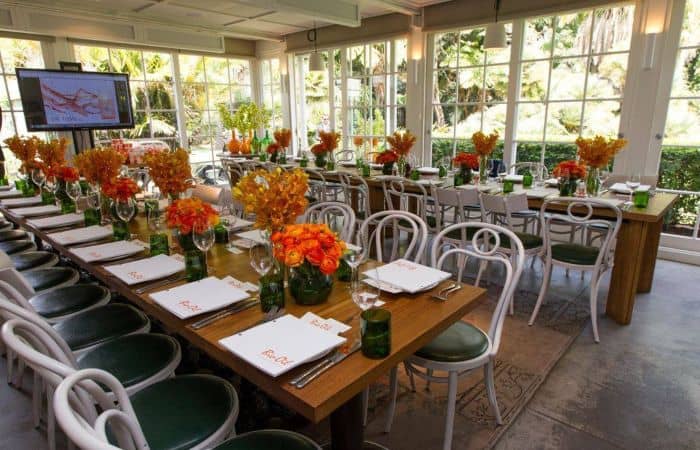 9. Aria at Circular Quay
Award Winning Restaurant with Harbour Bridge Views
The Harbour Room at Aria is the ultimate private dining space to soak up spectacular views across Circular Quay and the Sydney Harbour Bridge, not to mention amazing fine food (just check out the awards and accolades). For a sophisticated and intimate dining experience, you need not look further than here.
The Harbour Room seats up to 30 guests and the larger Wharf Room can seat up to 54; both rooms benefitting from picture postcard views through floor to ceiling windows.
Find out more about Private Dining at Aria
10. Red Lantern on Riley in Darlinghurst
Vietnamese Dining Experience
For a top notch authentic Vietnamese dining experience, you can be sure to get it at Red Lantern, it is after all…..known as the Most Awarded Vietnamese Restaurant in the World. The restaurant is packed with Indochine charm and the private dining room oozes a character and elegance of it's own.
Just minutes from Sydney CBD, gather your team or favourite people and celebrate with a seated lunch or dinner in this fabulous space that seats up to 16 people around one long table. With award-winning menus created by Chefs Luke Nguyen and Mark Jensen, coupled with a caring and attentive service from a dedicated team, it will be an unforgettable experiences for you and your guests.
Private Dining Room at Red Lantern on Riley
11. Beppis
Italian Private Dining in Darlinghurst
Regarded as one of the most hospitable Italian restaurants in Sydney, Beppi and his wife Norma established this venue in 1956 and it's still owned and run by the family today. Traditional, authentic Italian dishes are served up alongside an impressive choice of vintage, Australian and imported wines.
Step into the cellar for a unique and intimate private dining experience in one of 4 rooms. Accommodating between 6 and 20 guests; the Magnum Room, Vintage Room ,Alcove and The Main Cellar itself are lined with an extensive selection of vintage wines.
For larger groups, Sala Intima; a function room which seats up to 32 people is also available on the main floor of the restaurant.
Find out more about the private rooms at Beppis
For more great venues in and around the Sydney, head over to our venue finder on the venues Sydney page. Discover the perfect venue for your event needs, whatever the occasion.