POSTED ON Sep 29, 2023
Looking for the perfect Christmas party venue? You can relax, here's our top picks of Melbourne Christmas Party venues for 2023. From smart and stylish to luxe to down right fun!
1. Golden Fleece Hotel
Christmas Parties in South Melbourne
This unique and visually captivating establishment brings the essence of Santorini right to the heart of South Melbourne for the ultimate Christmas party venue. Step into a Mediterranean oasis and indulge in a delightful Mediterranean-style menu that will transport the taste buds of your crew to distant shores.
The Golden Fleece Hotel offers a versatile venue with multiple areas that can be hired individually or combined to suit your needs. Opt for a unique function room, an entire floor, a booth or the roooftop with views of Melbourne
See all Spaces at Golden Fleece and request a package
2. The Victoria Hotel, Melbourne CBD
Versatile EOY Functions
Looking for a seamless and flawlessly delivered event; The Victoria Hotel has Christmas all wrapped up for you. Conveniently located on Little Collins Street in the heart of the Melbourne CBD, The Victoria Hotel offers several versatile event spaces and room configurations to match your needs.
Whether it's an intimate gathering in one of their private dining rooms or a gala event in the art deco inspired ballroom; the catering, AV, technology and service is top notch. The menu has a strong focus on locally sourced and seasonal ingredients.
Request a Christmas functions package from The Victoria Hotel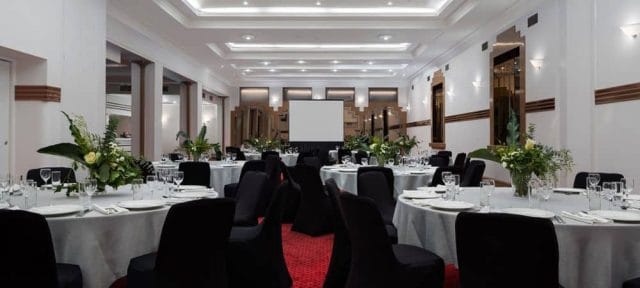 3. Melbourne Showgrounds
EOY Gala Events
Located close to public transport, major arterials and accommodation, Victoria Pavilion is a state of the art venue with a seating capacity of up to 1200 guests. From pre-dinner drinks and canapés to the biggest of gala events and everything in between, the floor to ceiling windows of the glass atrium will captivate and amaze your guests from hello to lights up.
The menus for Victoria Pavilion are designed to champion top quality ingredients and award-winning products. Ranging from simple stand-up finger food and appetisers to a sit down degustation, the menu options are as flexible as they are delicious.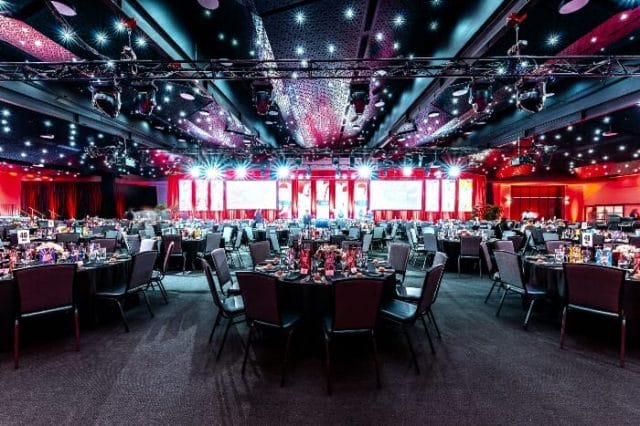 4. Toorak Hotel
Historic Venue
Toorak Hotel is one of Melbourne's finest venues for hosting various events and celebrations, offering a diverse range of event spaces to choose from. Among them, the newly renovated Jackson Room on the first floor stands out with its breathtaking city skyline view and luxurious finishes, making it the perfect choice for hosting an end of year "knees up". It comes complete with a dance floor, LCD screen, private bar, and exclusive bathrooms.
In addition to The Jackson Room, Toorak Hotel also boasts other fantastic spaces for private functions, including a chic cocktail bar, a mezzanine area, private dining room, and a spacious dining room. With such a versatile selection of event spaces, the Toorak Hotel is a top pick for your festive celebration needs. Find out more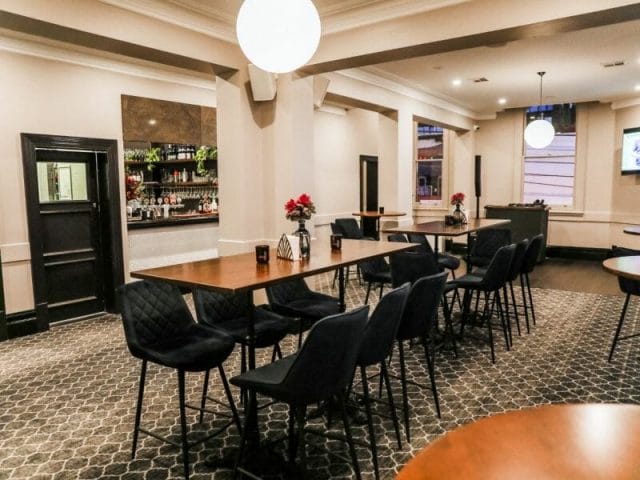 5. Two Wrongs, South Yarra
Alternative Christmas Functions
Indulge in a unique experience at Two Wrongs, nestled in the heart of South Yarra, where your merry band can dive into an extraordinary aquatic sci-fi setting.
This vibrant and unique bar is serving an inventive fusion of Japanese cuisine and creative drinks; it's the ideal spot to kick back and enjoy a memorable night. Whether you are a small team of six or it's for the whole department, Two Wrongs have booths, private rooms and a combination of event spaces to suit various group sizes.
Request a package from Two Wrongs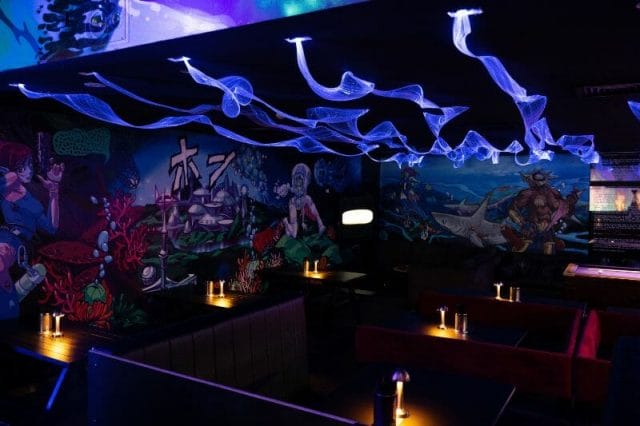 6. The George Lounge, St Kilda
Self Catering Venue
In the basement of the heritage listed George Hotel, you'll find a 1970s Miami and New York inspired luxe lounge with laid back vibes. It has recently gone through a complete facelift and is a gem of a spot for functions. It has a total capacity of 120 guests and an open plan design but you have 3 options; full venue (120 people), Main Bar (100 people) and the VIP Side room (30-50people)
This is a full licensed bar venue with a range of drinks packages available. You can however organise your own catering, so if you have something in mind, chat with the venue.
And, if there are some serious party animals in your crew, The George Lounge has a late license.
Request a Christmas package from The George Lounge
7. Treetops, Carlton Gardens
Festive Celebrations
A beautiful location to celebrate the year; Treetops at Melbourne Museum is a favourite spot for EOY events, festive luncheons and presentations. With floor-to-ceiling glass and stunning views over historic Carlton Gardens, the natural light floods the fresh, modern space.
Get package ideas for Treetops
8. The Park, Albert Park
A Lakeside Event
This premium waterside events venue is easily accessible from the Melbourne CBD and offers a tranquil lakeside setting and Melbourne city skyline views. As well as the spectacular views, your guests will also be in awe of the unique interiors with lofty high ceilings, polished concrete floors and chandeliers.
The Christmas food and drinks packages showcase a range of menus, offering traditional cuisine that is enhanced by contemporary flair. A lunch, dinner or lavish cocktail party, The Park can host events from 50 through to 500 guests.
9. Pinchy's
End of Year Deliciousness
A premium experience, an award winning menu and drinks by the Champagne bar come together to offer a complete spectrum of contemporary deliciousness this festive season.
Located at 200 Bourke Street, the venue specialises in array of delectable, wild caught sustainable seafood. Served in small portions so that you can enjoy more of the menu, this venue is inspired by the coastal Spanish setting of San Sebastien. Treat your team to an experience to remember on the Champagne Garden Balcony or in the Art Nouveau Dining Room.
Find out more about Christmas at Pinchy's
10. Ballers Clubhouse, China Town
Fun Fun Fun
It's new, it's different and it's a lot of fun. Steer away from the "norm" this season and book one of the many cool rooms at Ballers Clubhouse. Here's just a taster:
The Poolhouse
This Miami-inspired hotel room features 4 shufflecourts, cabanas and a giant swim-up style bar – what more could you want? Ideal if your company has between 30 and 80 staff.
Ping Pong Galore
Ballers like to cater for ping pong fanatics. Their "Ping Pong Precinct" is a private room with 7 tables, room to dance and DJ party vibes; great for larger parties between 80 and 200 guests. If your team like a bit of Ping Pong but you are looking for something a bit more dialled down; "Champions Bar" is a decadent private playroom with a mix of ottomans, couches, a private bar and a Ping Pong table centre piece for casual game play. Champions Bar holds up to 50 guests.
A good selection of canape menus and drinks packages are available to keep you and your people nourished throughout the games.
Send an enquiry to Ballers and see what they recommend for your shindig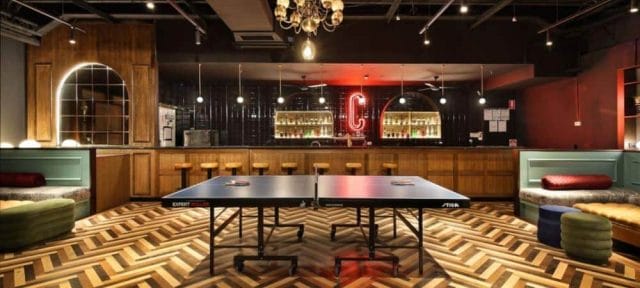 11. Baroq House, Melbourne CBD
Glamorous Christmas Functions
Be remembered for organising the most luxurious Christmas party in your company's history at Baroq House. Choose between a private booth or table, or wow your crowd with exclusive venue hire. These guys have hosted some large and well known organisations over the years and can certainly deliver a bespoke and stylish affair with a bang.
Delicious canapes and sharing platters are on the menu and tailored and themed menus can be also be created.
Send your EOY function requirements to Baroq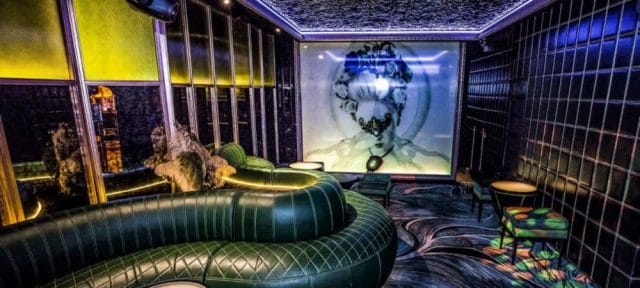 12. Bond, Melbourne CBD
Trendy Christmas Parties
Holiday season calls for all things lavish and Bond offer exactly that with your own the private function space at this premium venue. Whether you are a small intimate group or a huge company, celebrate the achievements of the past year at Bond.
Exciting beverage packages, delicious canape and grazing options and an electric atmosphere are all on offer. Enter the festive zone and dance the night away. Bond will be in high demand this season. Check out their spaces and send an enquiry.
Want more choices? Head over to our Melbourne venue search