POSTED ON Jan 30, 2023
9 Perth Private Dining Rooms to Impress Your Guests in 2022
The beauty of private dinners lies in their special, intimate set-up and a stunning location. If you are planning something unique and tastefully different, you are probably looking to wow your guests and Perth has a decent selection of gorgeous private dining venues. Here's our top picks:
Featured Image: Lamont's Bishops House
For more great venues, got to our venue search.
1. Private Dining Room at Holiday Inn West Perth
An Authentic Italian Dining Experience
The private dining room at Holiday Inn West Perth is full catered by Julio's Italian restaurant – serving up the authentic and wholesome flavours of Italy. As well as beautiful food, the room is beaming with charming character and heritage features. Conveniently located in the business district of West Perth, it's a weekday favourite for work meetings, presentations, and other corporate events and popular for intimate private events at weekends. Guests soak up the mixture of old and new with original floorboards and exposed ceilings and walls.
More About Events at Holiday Inn West Perth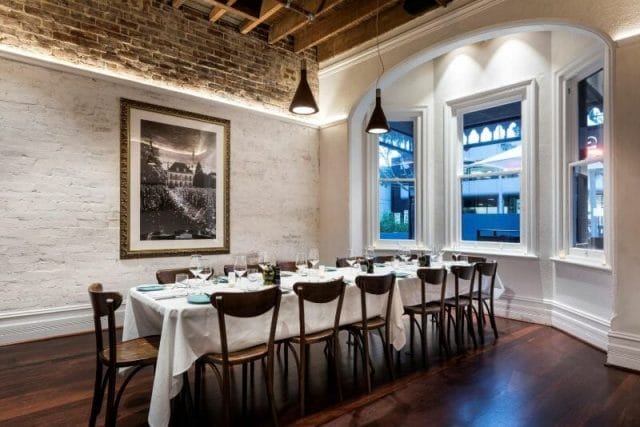 2. Bishop's Private Dining Room at Lamont's
Heritage Elegance
A beautiful blend of turquoise and yellow greets you as you enter the Bishops Private Dining room, instantly uplifting your spirits. The secluded room is set in a heritage-listed house in the heart of Perth's CBD. With a capacity of up to 20 guests at the long dining table, Bishops Private room is ideal for corporate events, meetings, intimate weddings, and dinners. Lamont's are famous for decadent food and wine so if your guests are foodies, this will hit the mark. You will be treated like royalty in your exclusive and completely private event with your own waitstaff.
Find out more from Lamont's Bishops House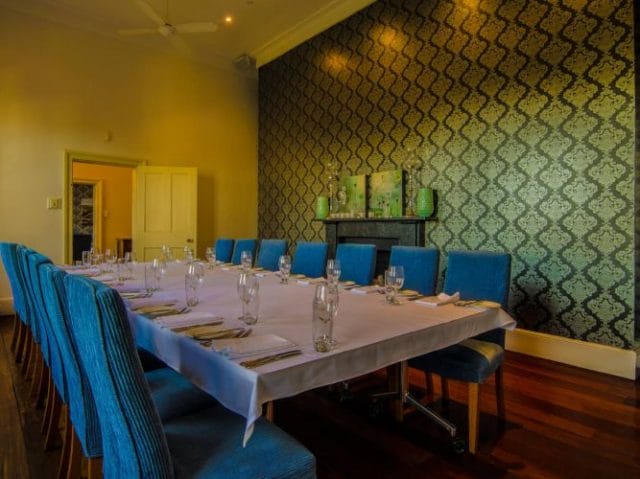 3. Swingview Room at Ambrose Estate
Elopement Dinners and Special Occasions
This intimate room looks amazing at night. Dazzle your guests with views of the city on one side and acres of parkland on the other through floor to ceiling windows and the private balcony. Located at the lush and picturesque Wembley Golf Course, Ambrose is serious about their food and exquisite service.The Swingview Room is a favourite for elopement dinners and special celebrations whether it's for business or pleasure between 20 and 40 guests.
More About Ambrose Estate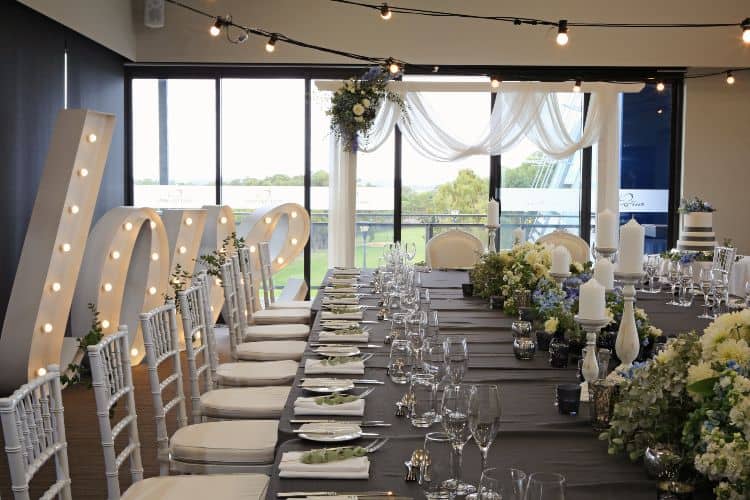 4. Gershwin's Wine Room and Dining Suite at Hyatt Regency Perth
Intimate Functions
Majestic and elegant, Gershwin's Wine room is made to impress. The well-appointed Wine room is decorated with a striking sunken ceiling covered in silk and an elaborate chandelier, accommodating 18 guests in a long table set up. The Gershwin's venue also consists of a Private Dining Suite that can fit 40 guests in banquet rounds. These luxurious spaces are ideal for a range of intimate functions including weddings, corporate events, presentations, workshops and private dinners.
Request a package from Hyatt Regency Perth
5. The Glasshouse at Kailis Bros
Private Dining for Business or Pleasure
Located in the heart of Leederville, Kailis Bros is renowned for its fresh local produce, quality and service. On the ground floor, The Glasshouse is a private dining room that seats a maximum of 32 guests and is ideal for hosting breakfasts, luncheons, family get togethers, private dinners and important business meetings.
Versatile with full audio-visual and conferencing facilities, the room is fresh and welcoming. The private dining menus include a shared option or shared small dishes followed by a plated main course. Prices start from $55 pp. Of course, food includes some treats from the ocean (think snapper and Fremantle sardines), but also some land options, including vegetarian.
*prices and options are subject to change.
For more great venues in and around the Perth area, head over to our helpful search function on the venues Perth WA page. You'll find it really easy to find a close matching venue for your event needs, whatever the occasion.
6. Bib and Tucker
Oceanside Private Dinner Events
Literally perched on Leighton Beach, this beachside setting will impress your dinner guests for a relaxing and intimate event. Bib & Tucker celebrate seasonal local produce, prepared daily using classical and modern cooking styles – so you won't find any short cuts here.
The ocean facing terrace with sensational views seats between 20 and 40 people and is the perfect destination for celebrations. The North facing balcony seats between 20 and 30 people and is a wonderful spot for a long table lunch overlooking the beach with your nearest and dearest.
Learn More About Private Dinner Events at Bib and Tucker
7. The Cellar at Steve's Nedlands Bar and Café
In the Wine Cellar
For a truly special private-dining experience, book Steve's wine cellar in the heart of Nedlands. The elegant cellar boasts privacy and will bring a smile to your guest as they descend to this unique space. The large room can host up to 40 guests sitting down and 50 cocktail style making it ideal for corporate meetings, wine tasting, and private dinners.
Request a package for The Cellar at Steves
8. Acqua Viva on the Swan
Private Dinners on the River
Surrounded by floor to ceiling glass windows, you cannot get any closer to the Swan River than this. Acqua Viva on the Swan is located directly on the water in Nedlands and boasts insta-worthy sunsets and an ambience ideal for both corporate and private events.
With a capacity of 35 guests, this private space, fully enclosed by glass has a strong reputation for excellent service and food to compliment the exquisite location.
More on Acqua Viva private dining room
9. La Sosta in Fremantle
Modern Italian Cuisine
Craving an Italian culinary experience? Check out La Sosta in Fremantle for modern Italian cuisine, home made pasta and bread, ample delicious servings and international wines.
The Mezzanine has ambient lighting and is available for private dining events up to 70 people. Or, you can book the outside Balcony and enjoy looking over the cappuccino strip while you feast and celebrate with friends and family.
Check out the spaces at La Sosta Italian