POSTED ON Jul 22, 2023
If you're looking for flexibility at your event, why not consider a BYO or self-catering venue? Perth offers a range of venues that will give you the ability to make your event unique. Here's our pick:
1. PERTH CITY FARM EVENT SPACE IN EAST PERTH
Warehouse Venue
BYO Alcohol: Yes
Self Catering: Yes
This industrial warehouse style barn in the heart of Perth features a gabled ceiling, character stone and bush-land surroundings. It brings off-beat outback charm to the big smoke.
With exposed metal beams and rustic wood just seven minutes south of the CBD, if you want to strike an organic chord with any modern event-goers, your guests are likely to compliment these converted buildings set amongst modern city life. Whether it's smashing slices of wedding cake or sipping sophisticated champagne, when it comes to insta-worthy pictures…..this venue is jam-packed with style which can be customized to host anywhere between 50-400 guests indoors or outdoors.
Want more info? Visit here: Perth City Farm
Image Credits: Featured Image at the top of page: The Art Room by Shoshana Kruger Photography. Image below: The Barn by Amanda Alessi Photography
2. THE HEN HOUSE IN OSBORNE PARK
Make your event your own
BYO Alcohol: Yes
Self Catering: Yes
Conveniently located in the industrial area of Osborne Park, (yes, that means plenty of parking and no noise restrictions), this unique warehouse venue is waiting for you to throw the party of a lifetime.
With funky art work and the foundation for a great vibe, you can host a unique private or corporate event that your guests will be reminiscing for a long time. Want to bring your party theme to life? This is the place to do it. Offering lots of perks and flexibility, you can bring in your own catering, drinks, music, entertainment and other event suppliers. An in-house sound system offers plug in and play functionality. There is also an outdoor area, a barbecue and fridge.
With a capacity of 80 guests, The Hen House hosts plenty of celebrations, engagements, birthdays, weddings and themed corporate events throughout the year. The venue is hugely popular for bucks and hens parties.
See more info and enquire about The Hen House
3. THE BELL TOWER UNIQUE VENUE
An Iconic and Unique BYO & Self Catering Venue
BYO Alcohol: Yes
Self Catering: Yes
In the heart of Perth, close to public transport and the buzz of Elizabeth Quay, this unique and impressive venue will definitely knock the socks off your guests with its striking architecture and breathtaking Swan River views.
It's an indoor/outdoor function venue that is popular for small wedding ceremonies and receptions, corporate cocktail functions and other celebrations. The Bell Tower offers kitchen facilities to registered catering companies. Other food needs to be prepared offsite or prepared in the function space; grazing tables work well in this instance. Drinks can be delivered to the Tower to make for an easy setup. The Tower requires registered service staff to serve beverages.
Find out more about this unique BYO & self-catering venue
Image by Alana Prosper Photography
4. NEDLANDS YACHT CLUB RIVERSIDE VENUE
Dreamy Waterfront Location
Self Catering Only
Feel the breeze and watch the sunset from the award-winning Nedlands Yacht Club. A peaceful venue with a lusciously green lawn that's views from the foreshore over-look sparkling waters are glittered with reflections of the Perth city skyline.
This DIY style venue presents an abundance of choices that can host up to 1500 guests. Think food trucks, teepee's, glamorous lighting, sofas on the open-lawn or a clear-roof marquee. You can experience the open fresh air with this outdoors venue that allows a set-up of your choice.
More about: Nedlands Yacht Club riverside venue
5. BROOKLEIGH ESTATE BYO WEDDINGS
Self-Catering and BYO Wedding Venue in the Swan Valley
BYO Alcohol: Yes
Self Catering: Yes
A picture-perfect scene, this 80 acre European inspired Country estate is sure to manifest fairytales with its French Chateau style architecture. The Limestone buildings are overlooking a lake, garden and local wineries.
Brookleigh is the only BYO venue in the Swan Valley and can literally be your kingdom for the day. Whatever is on your wish list when it comes to catering style, entertainment, performances or ceremony, they can all be accommodated here.
And if you're not interested in making every last detail perfect, Brookleigh's in-house event planner will make sure all is covered.
Total guest list between 50-300 people.
An extra added benefit is the luxury apartment accommodation available that sleeps 36 with beautiful separated Groom and Bride areas.
Find out more about Brookleigh Estate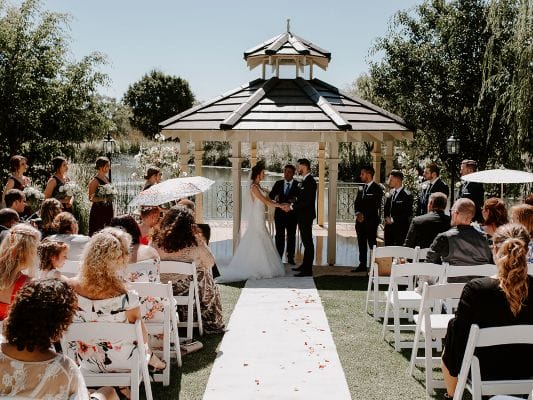 Event Suppliers for BYO Events
If you need help in creating your dream event or party at one of these venues, Global Event Concepts specialise in helping bring your vision to life.
6. FRIDAYS STUDIO
Studio Venue in West Perth
BYO Alcohol: Yes
Self Catering: Yes
A studio by day; Fridays Studio opens up to host the more innovative event or wedding at night. With its white painted walls, the recycled brick building home is a warehouse full of opportunity to push your creative ideas for any theme.
With 300 msq in the main area and 100 capacity in the second space makes it ideal for events and caterers. The venue is popular with weddings, launch events, corporate parties and workshops. It's a true blank canvas so everything for your event will need to be brought in.
Find our more about this blank canvas venue
7. CLEAVER ST & CO EVENT SPACE IN WEST PERTH
BYO Blank Canvas Warehouse Event Space
BYO Alcohol: Yes
Self Catering: Yes
This converted industrial space is often used as a blank canvas for exhibitions, weddings, private functions and workshops. With a BYO bar, anything your event needs can be brought into the space or matched with a tailored styling and catering package from Styled Notion.
Previously home to metal workers and glass-blowers, it is now filled with natural light, white walls and neutral tones. The stylish wood panelled bar is a welcoming feature for your guests to enjoy
Conveniently located close to Perth CBD, this multi-pupose venue can hold up to 100 guests and has plenty of free parking.
See more info and pics on Cleaver Street: West Perth Blank Canvas Venue
8. SWAN RIVER ROWING CLUB WATERFRONT VENUE
Rustic Venue on the Water
BYO Alcohol: Yes
Self Catering: Yes
This rustic building on the river with a shoreline acting as a backdrop, the SRRC rowing club on the Esplanade at Mt Pleasant is a BYO favorite for day and night events.
You can feast on the large balcony overlooking the river, a view just south of the Perth CBD; the SRRC offers a location to pause by the water and connect with nature, family and friends.
It is a timeless venue that features an iconic Swan River outlook, it's a blend of old and new. Perfect for hosting corporate or private functions; standing cocktail event of 160, or a maximum seated event of 85-100 guests.
Learn more about this venue now: Swan River Rowing Club
9. MOUNTS BAY SAILING CLUB
Swan River Weddings and Events
BYO Alcohol: No
Self Catering: Yes
Located in Crawly, just 15 minutes from Perth CBD, Mounts Bay Sailing Club is a stunning waterfront spot for weddings and events. The venue allows you to bring in your own catering and provides 2 commercial kitchens for your caterer to choose from. The venue is fully licensed and provides a range of beverage packages.
The Riverside Lawn can host grand events up to 2000 guests in a cocktail style event or up to 1000 guests seated, and is equally special and suited to the more intimate of occasions. The indoor function rooms host up to 100-300 and boast private bars and balconies that capitalise on the riverside setting and views.
Check out the all event spaces and venue hire inclusions at: Mounts Bay Sailing Club
Would you like to check out some more great Perth venues? Try our easy to use venue finder to search for the perfect location for your next event.