POSTED ON Jun 30, 2022
Need to book your Christmas party? No need to stress. Sit back and choose from our top picks of Perth Christmas Party venues for 2022.
Feature image: Ambrose Estate
1. RAC Arena
Treat Your Guests As Superstars
For a show-stopping end of year function, check out RAC Arena. This iconic venue located in the heart of Perth, has convenient onsite parking and plenty of public transport options within walking distance.
Enjoy VIP treatment with their award-winning catering and an experienced in-house technical team. Offering both indoor and outdoor spaces, they can accommodate you and your entourage of 100 all the way up to 3,000.
Check out RAC Arena's standout spaces and request a package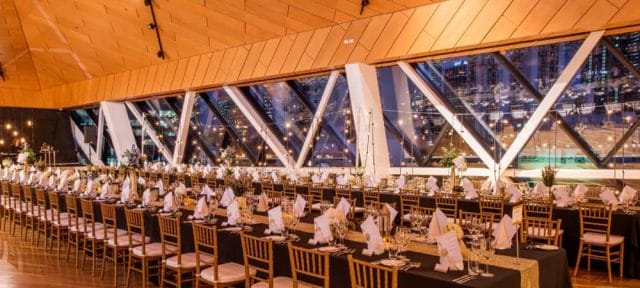 2. Ambrose Estate
Ambrose Corporate Christmas Parties
Spoil your staff or clients this season with stunning views that will make them feel a million miles away from the office. In fact you are only a few kilometres west of the city in Wembley Downs. Head into the stylish Ambrose Room at Ambrose Estate which opens up to a magnificent timber balcony with a sweeping scene of green lawns, picturesque lakes and natural bushland. Choose a cocktail style celebration or a full plated sit down menu and feast together.
With the stars in your sights as the sun goes down, you won't find a more dreamy atmosphere to close the year off. Perfect for a large or medium group. Book in before it's too late!
Ambrose Estate also offers the "Swingview Room" which also comes with a private balcony and breathtaking views and the open air "Pavilion"; perfect if you would like to combine the festivities with a game of mini-golf.
Christmas Parties at Ambrose Estate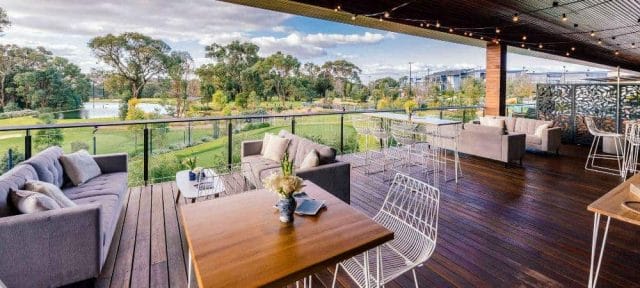 3. The Old Laundry
Minimum Spend Packages
Warm and charming with eclectic decor, The Old Laundry is a favourite for sophisticated Christmas events with a rustic edge. Located in North Perth, just a 6 minute drive from the CBD, you can hire the whole venue which includes a courtyard or a designated space on a minimum spend basis.
The impressive food and beverage menu options will make your guests feel special with a range of grazing boards and "nibbles" packages. An example mouthwatering nibbles menu might include: chorizo croquettes, pumpkin arancini, beef pie, chicken skewers, beetroot risotto, fish and chips and oysters.
The Old Laundry will assist you curate a package for your Christmas event. Suited for groups between 20 and 120 people.
Hire The Old Laundry This Christmas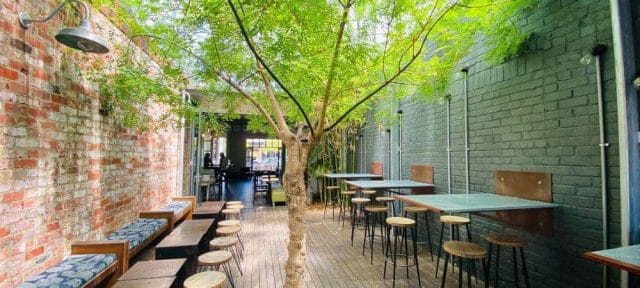 4. Parmelia Hilton Perth
All Wrapped Up
Conveniently located in the heart of Perth, stroll into recently renovated Parmelia Hilton Perth and celebrate this year's wins with an event tailored to you and your guests.
Outdoor Piazza
Soak up the summer weather with a "Party on the Piazza" . Showcasing food stations, roaming canapés and a barbeque, plus three hours of drinks from $110 per person. They also offer a "Barbeque on the Piazza" which includes chilled West Australian seafood served on ice!
Private Function Rooms
For seated events, you can take over one of seven versatile function rooms and feast on a plated three course menu or Christmas themed buffet dinner from $85 per person. Canapé service also available. Beverage packages start from just $26 per person.
Book the Bar
Book yourself a cosy corner at Samuels on Mill for an intimate group and enjoy the atmosphere around you. No minimum spends apply.
There are premium packages, customisations and plenty of upgrade options available as well as discounted accommodation rates. Chat to the friendly events team at Parmelia Hilton Perth to find the event that suits you.
Request a package from Parmelia Hilton Perth
5. Doubletree by Hilton Perth Northbridge
Stylish Hotel Venue
Canapes, drinks, festive sit down dinners…DoubleTree by Hilton Perth Northbridge has your festive party all wrapped up.
By The Pool
Festive Sundowners by the rooftop pool with stunning views of the city skyline in an unforgettable outdoor setting. The cocktail menu includes canapes, platters and a choice of drinks packages.
New Lounge Bar
Share the joy with a delicious sit down plated menu or standing cocktail party in this new plush area on Level 2 of the hotel. Designer furniture and quality fittings, the space has a unique in-built marble bar and ambient pendant lighting. With floor to ceiling windows looking back on our wonderful city, this space is sure to impress!
Private Function Rooms
Enjoy all the trimmings with one of Doubletree's sit down menu options in one of their unique spaces that seat between 20 – 80 guests. Two course from $58 per person, 3 course from $68 per person and festive season buffet from $80 per person. Drinks packages available separately.
Your staff could even stay over the weekend and relax in one of the stylish guest rooms, most with stunning city views. Get in contact to find out more about this modern and exciting venue and its Christmas catering options.
Enquire now about: Corporate Christmas Functions at Doubletree by Hilton
6. Oscar's at Guildford Landing
Favourite Guildford Venue
Looking for a great venue East of Perth? Look no further. Oscar's at Guildford Landing has one of the best reputations we've seen for great food and hospitality. This family run restaurant offers indoor seating in a charming heritage setting and Oscar's Garden; a semi-enclosed outdoor area that overlooks the picturesque grounds of the neighbouring St Charles Seminary.
The restaurant can accommodate 20 – 60 people, Oscar's Garden accommodates up to 80 guests and both spaces can be combined to host events up to 110 people. The Christmas menu is a seated, shared style menu; 4 or 6 courses. Pricing starts from $60pp and beverage packages are also available.
Request Christmas menus and packages from Oscar's at Guildford Landing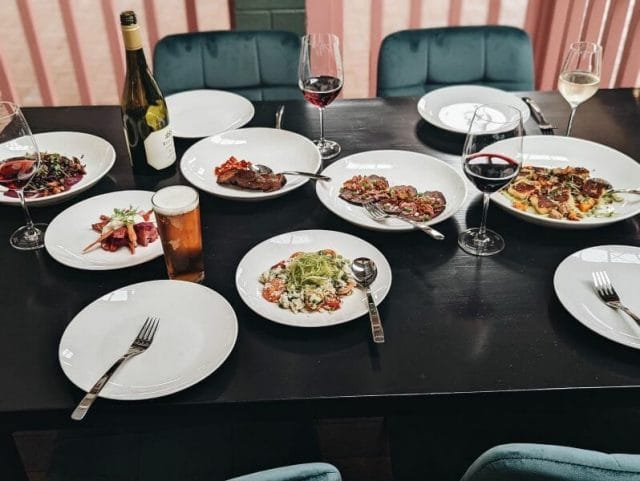 7. Johnny Fox's
Northbridge Venue
Your team will love to unwind and celebrate the year at cosy Johnny Fox's in the heart of Northbridge. Upstairs is a charming event space for both seated & cocktail events for groups between 30 and 160. Downstairs is Snug Bar; a more intimate lounge area for smaller groups.
Two-course set menus start from $40pp and include Irish favourites that warm the soul. Shared platters are available for standing events and their beverage package is $49 pp for 2 hours + $10 per hour thereafter.
Johnny Fox's Function Spaces and Packages
8. Duxton Hotel
Traditional Trimmings
Located in the CBD, Duxton Hotel is in the ideal location for the whole team to walk to straight from the office. With 5 star banquet rooms and an emphasis on fresh local produce and traditional Christmas cuisine, it's time to relax and enjoy top notch service and a festive feast. After all; you deserve it.
Their packages include a 2-course menu starting from $69 per person, a 3-course menu starting from $79 per person and a buffet menu starting from $75 per person. Venue hire, dance floor, decorated Christmas tree, centrepieces, and bon bons are all included. Selection of beverage packages are available from $20 per person. The Duxton has several functions rooms to cater for various event sizes.
Get in contact with Duxton Hotel Perth to find out more.
9. Steves Bar and Bistro
Pick of Fabulous Spaces
This purpose-built wine-tasting and food venue conveniently located in Nedlands is stocked wall to wall with some of the world's most beautiful wines. However, groups who celebrate Christmas will be convinced that Steve's has far more to offer than award-winning wines.
A great option if you want to avoid trekking into the CBD. Steves offer culinary treats, delicious dining and live entertainment. There are a number of incredible purpose-built event spaces for Christmas party organizers to choose from including; a lawn, a terrace, cellar and a wine-store. Best for small-medium events, each area has its own unique qualities that make modern elegance and sophistication outside the workplace an absolute breeze:
More About the Spaces at Steve's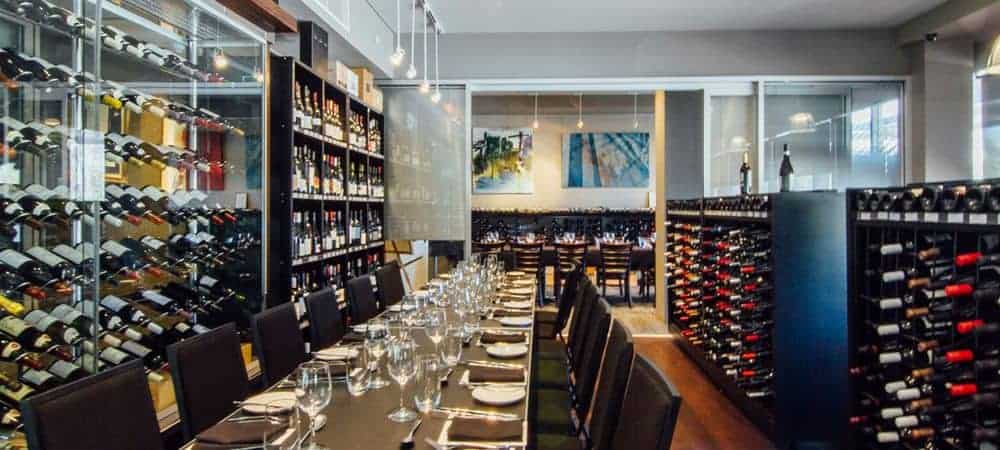 10. Hyatt Regency Perth
Festive Buffets and High Teas at The Hyatt
Get into the spirit of the silly season with a Christmas Buffet fit for a King at Hyatt Regency Perth. With several function spaces available, amazing food, and great AV capabilities, The Hyatt are well and truly equipped to deliver memorable end-of-year festivities.
Christmas buffet lunch/dinners start include a range of stations to make your mouth water.
Request a Christmas Functions Package from Hyatt Regency Perth
11. Perth City Farm
Unique BYO Christmas Party Option
Want to really blow your staff away this year with something truly unique? Perth City Farm is a BYO venue. This means you hire the blank space and they give you the complete freedom to design and tailor your event to suit your vision and budget. It also means no drinks package… you organise food and drink to suit your budget! Perth City Farm offer two cool function spaces.
The Art Room
The Art Room is your modern industrial canvas to create something stylish and sleek, something rustic or tropical… or something completely wacky, like a mini-golf course! This large open plan warehouse can suit up to 200 guests and can be styled up or down to suit absolutely any type of event.
Indoor and Outdoor
The Barn and Courtyard area is an eclectic mix of lush gardens, street art and rustic warehouse… creating a canvas like no other. This space can accommodate up to 400 guests and can be harnessed to create an incredibly unique event. Think carnivale or street festival, think fiesta or rustic barn dance, think exclusive degustation under a green canopy or multi-cultural food trucks! You have complete freedom to create whatever you want.
If you've had enough of the typical work's function and want to try something new, this unique Christmas venue is the perfect solution.
Unique Christmas at Perth City Farm
Image credit: Amanda Alessi Photography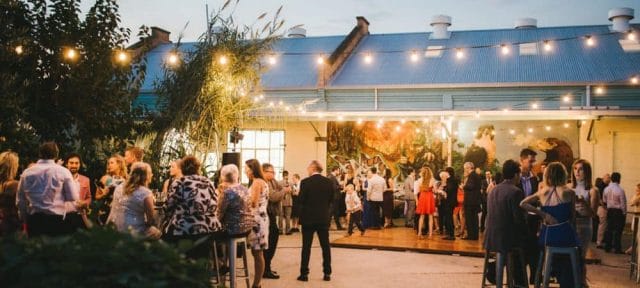 12. Eastside Social
Chrissy Sundowner in East Perth
The vibrant and new Ibis Styles hotel on Adelaide Terrace is home to Eastside Social Bistro and The Urban Offices. Flooded with natural light from those ginormous windows, this is a fresh and convenient spot for a relaxing end of year sundowner with clients or colleagues.
From 28th November to 20th December, they have a great value Christmas set menu available starting from $48 pp for a Starter & Main. Minimum 4 persons per booking and you will need to order a week in advance. If you are looking for somewhere to take out the stress of Christmas Day, they will be hosting a Christmas Day buffet for $55 per person.
Get more info or request a package here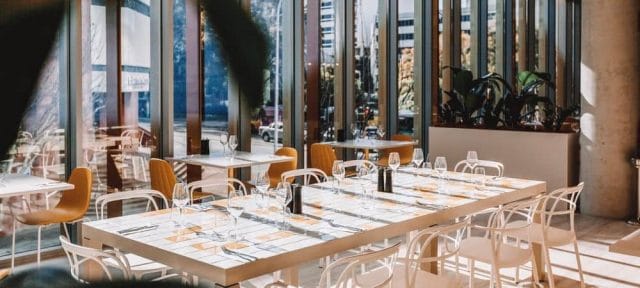 13. Perth Flying Squadron Yacht Club
Waterfront Celebrations
This Yacht Club in Dalkeith is a dreamy spot for end of year celebrations with panoramic views of the Club's private jetties, the Swan River and Perth City. The indoor bright open function space includes a balcony overlooking the water. Events can also be held on the lawn for that quintessential Perth Summer experience.
Seated and standing catering packages are available, including canapes, grazing tables, buffet and seated set menus. Choose from a cash bar, bar tabs or an hourly beverage package. There is ample parking at the venue, making this a great option outside of the city centre. Indoor capacity is 250 standing and 100 seated. The Lawn can hold up to 600 guests.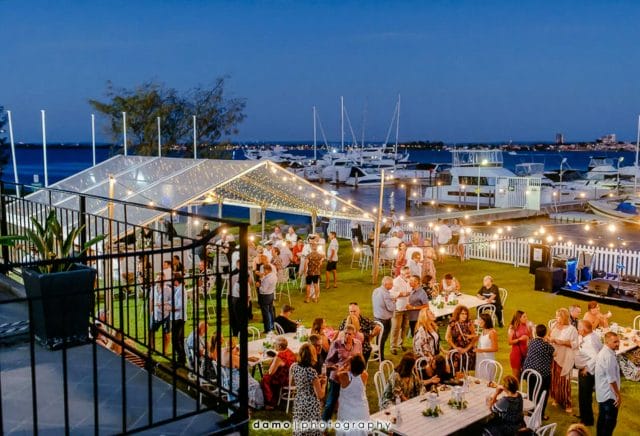 14. Nedlands Yacht Club
Waterfront Christmas Celebrations
Situated on the beautiful Swan River, overlooking our magnificent Perth City Skyline, Nedlands Yacht Club is an enviable spot to celebrate a successful year. With a unique and flexible event space, not to mention the jaw dropping views, you can pick and choose how you want this party to roll.
Beverages are supplied and served by the venue and catering is your choice; select a package by NYC or organise your own caterer. Think canapes, food stations, food trucks or barbecues – what's it going to be? Play games, hire some live music, a photo booth or simply mingle beneath the stars and soak up the serenity of the waterfront location.
Depending on the area of the foreshore you choose, your venue hire might come with AV capability, festoon lighting, furniture, linen, lawn games and commercial kitchen access. Chat with the team at NYC to learn more about what is on offer and how you can realise your Christmas party vision.
More About Nedlands Yacht Club
Not found what you were looking for? Were you unable to secure the date you wanted? That's OK, because we have many more fantastic Perth venues that you can find at your fingertips, using the easy Venue Maestro search. Hop over to our venue hire Perth page for more great options this coming festive season.